"We will win." When the fascists began marching through Europe, this was the slogan that their occupying forces left as graffiti, even in the farthest islands of the Adriatic Sea: Vinceremo. "We will win". Today, a reactionary international rises again. Like the fascists before them, they coordinate across borders, share tactics, and shake hands at international conferences. "There's a class war, all right," billionaire Warren Buffett has said, "but it's my class, the rich class, that is making war, and we're winning."
Back in 1941, on the island of Vis, the local youth hid out to scribble over the fascist graffiti. They changed a few letters: Vedremo! "We will see." It is in this spirit of defiance that movements around the world are today taking shape, fighting authoritarian leaders and their corporate allies alike. "We will see," they say, taking to the streets in rebellion.
Our challenge now is to join together in this act of defiance. This is why the Progressive International is launching The Internationalist.
Our liberation can never be local: in the context of our escalating climate crisis and permanent nuclear threat, it is internationalism or extinction.
The Internationalist is a new weekly program that will bring you news from the front of our struggles around the world, connecting across territories and oceans, nations and generations.
The Internationalist sends our message — Vederemo! — across this planet, building the solidarity necessary for us to organize, educate and agitate against the masters of the Apocalypse.
Make Amazon Pay!
On 1 December, PI launched The Internationalist with a special show dedicated to the Make Amazon Pay campaign — it featured  Saskia Sassen (Columbia University), Christy Hoffman (UNI Global), and Casper Gelderblom (Progressive International).
Parliamentarians across the planet have been uniting to #MakeAmazonPay. This new global movement mobilized to demand justice from Amazon. Today, over 400 MPs across 34 countries pledge to stand with that movement in a letter to CEO Jeff Bezos.
A few highlights:
"Amazon offers a unique opportunity for progressive workers to come together around a pro-worker, pro-climate, tax justice, anti-monopoly, digital rights agenda because it really illustrates everything that's wrong with our economic model. (…) We need Amazon to pay its fair share of the cost of recovery and taxes, and we can't let it refuse to negotiate with workers and impose inhumane production quotas on workers." — Christy Hoffman (UNI Global)
Christy Hoffman highlighted the various protests and worker-led actions of the Make Amazon campaign. She spoke of its global surveillance campaign against workers, their refusal to work with unions, and their dismal working conditions: "I think it's fair to say that Amazon pushes workers to the brink of collapse and pushes some more — even pre-pandemic, the health and safety conditions in Amazon warehouses were notorious." She mentions a study on injuries that observes that rather than ease the burden of their work, Amazon robots make it more dangerous for workers because of repetitive motions required.
"Amazon is elusive — how do the workers even begin to reach the higher levels? And then we have the media which is enamored with Amazon and all the little additions that happen every year. So, it is really a tough one. I am absolutely grateful that there are people who really are in the battle of exposing the unnecessary abuses of Amazon. Jeff Bezos is so rich — why can't he?" — Saskia Sassen (Columbia University)
Saskia Sassen analysed the scope for resistance against Amazon and how this differs from the typical economic history of the last 20-30 years. The loss of power of labour unions in this period was intentional, according to Sassen. Furthermore, Amazon was a major reason for a lot of closures of small business. Overall: "With Amazon, we have many little injustices. Moreover, those little injustices operate in an enormous operational field which is all the sites that Amazon has. This is a monster." But she highlights how 'workers, in the long run, have victories' and how in complex systems profound change is not always immediately visible.
Watch it now!

A preview of the December 2020 program:
4 December: PI Cabinet member Varsha Gandikota hosts an important discussion on Intimacy and Internationalism: Learning from Feminist Movements with Dilar Dirik, Djamila Ribeiro and Lynne Segal.
You can already set a reminder and watch it here!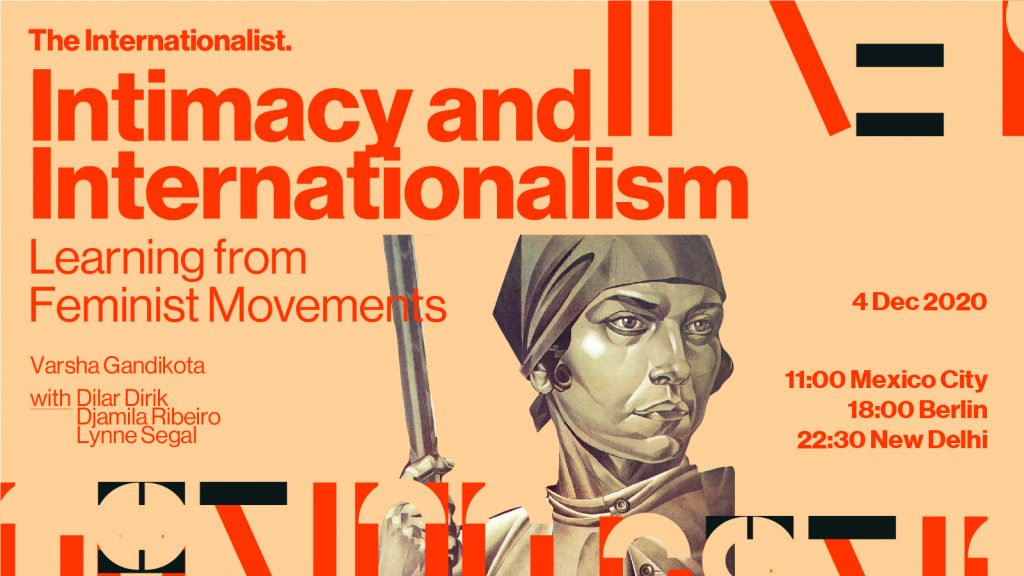 10th December: On the occasion of International Human Rights Day, we return with the second sessions of the Belmarsh Tribunal, demanding the release of Julian Assange as the Covid-19 pandemic escalates at Belmarsh Prison
17 December: Exactly 10 years after the self-immolation of Mohamed Bouazizi sparked massive uprisings in the Arab world, PI Council member Ahdaf Soueif hosts a panel on the lessons of these historic events for our struggles today, with Ziad Majed, Khaled Mansour, Mona Seif and Nesrine Jelalia
In the days and weeks to come, The Internationalist will bring you critical perspectives and grassroots accounts of the key struggles of our time, with guests from across the PI membership and beyond.
If you would like to stay up to date on The Internationalist, click here. If you want to support our work relying on many volunteers, please consider donating.
Möchtest du über die Aktionen von DiEM25 informiert werden? Registriere dich hier