Social justice will bring us climate justice
The World Day of Social Justice recognises the need to elevate discussions and policies surrounding social justice in tackling issues such as poverty, sustainable development, inequality, and human rights. One of the most pressing issues that we face right now is climate change and this affects all aspects of humanity. Such crises push people, especially marginalized or oppressed groups, further away from a just and safe life. Indeed, "social development and social justice cannot be attained in the absence of peace and security, or in the absence of respect for all human rights and fundamental freedoms."
This as an opportunity to implement a Green New Deal for Europe (GNDE), similar to the efforts undertaken by the socialist left in the US congress and the large network of grassroots movements that have sprung up all over the planet to deal with the destructive consequences of climate destruction created by capitalism and its extractive economic model.
Seeing the Green New Deal for Europe through a feminist intersectional lens could bring forth new possibilities and inspirations
DiEM25's Green New Deal for Europe (GNDE) promotes a swift, just, and democratic transition to a sustainable Europe.– one that ensures intersectional and intergenerational justice.
The Task Force for Feminism, Diversity and Disability partnered up with Stefania Romano of the GNDE committee in DiEM25 to create a series of webinars to bring forth discussions with collectives and activists from around the world to talk about tackling social injustice and environmental breakdown, and the connections between the two.
The first webinar was held in collaboration with representatives of the Feminist Green New Deal, a US based alliance of grassroots and pressure groups that offer an intersectional and feminist perspective to the discussions around environmental and social justice policy discussions. They were represented by Osprey Orielle Lake, WECAN Executive Director, and Akhila Kolisetty, Policy and Campaigns Manager for MADRE to lead the discussion.
What became clear was the direct link between climate justice and social justice. It is at the intersections that the climate crisis touches that we find the solutions already available to us: migrant justice, racial justice, economic justice, labor justice, reproductive justice, and gender justice represent the intersections where the climate solutions exist, making clear that without addressing all those injustices any climate solution will only amount to greenwashing and will instead perpetuate the same systems that created the planetary destructions we are living in today.
The focus of the webinars is the conviction that we need to elevate other voices to the decision table, to hear from those who are the most impacted by climate change and planetary destruction. These perspectives can bring effective and holistic solutions as opposed to the many false responses built through high tech and used to greenwash the existing policy directives. Capitalist expansion, settler colonialism, slave trade economies and globalisation have silenced and oppressed the voices of those most impacted by its extractive practices. In the process, we are losing the knowledge, wisdom, best practices and interests of the 99% that are effectively left out of economic developments.
Join us on 26 of February at 21:30 CET for our webinar on indigenous rights and leadership!
Indigenous peoples hold rights over and protect 25% of the earth's land surface and 80% of remaining biodiversity. We need to talk about how indigenous people need to be in positions of decision making and leadership, and how we need explicit legislation for indigenous women and traditional ecological knowledge presented as viable options that should be supported.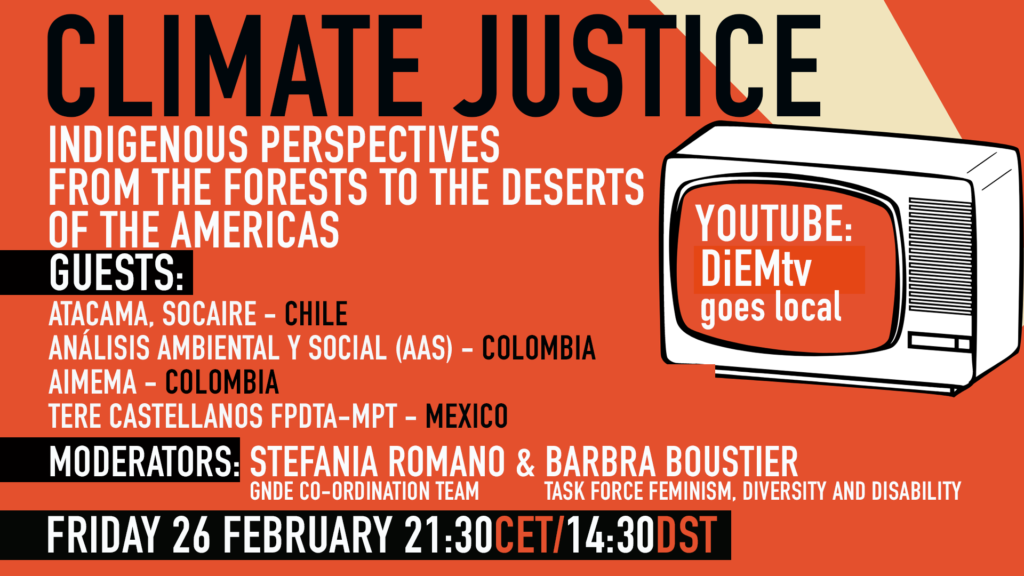 Climate justice: indigenous perspectives from the forests to the deserts of the Americas
In this webinar, we are calling in indigenous voices to learn from their experiences and draw from their ancestral knowledge. Racism and violence perpetrated against indigenous peoples is not only a legacy of a colonial and violent past but it continues to be a plague and threat to conservation, climate, and environmental justice. Indigenous communities all across are still mostly displaced and marginalized according to the Western assumption that they have little or nothing to contribute to. On the contrary, indigenous people have critically important knowledge and practices. Invited speakers and organisations are: Atacama (Socaire,Chile), Aimema (Colombia) , Análisis Ambiental y Social (Colombia), Tere Castellanos FPDTA-MPT (Mexico).
Register here for the event!
The feminist intersectional lens looks to global justice as opposed to profits for the few and powerful
The feminist intersectional lens allows policy makers to focus on implementing real solutions based on lived experiences, real case scenarios, ancestral wisdom and new imaginings that look to Global Justice as opposed to profits for the few and powerful. Indeed, the UN Peace Corps states that: "Guaranteeing the rights of women and giving them opportunities to reach their full potential is critical not only for attaining gender equality, but also for meeting a wide range of international development goals." This kind of Gender Justice has the potential to impact communities and families on the front-lines of ecological and economic exploitations.
In practice, this means creating alliances of frontline communities that can confront existing  institutionalised injustices offering real solutions now such as the one outlined in the Progressive International Blueprint (see Community Wealth Building).
By looking at the climate emergency at the local, tribal, regional and national levels, it's possible to invert the tendency of technocratic policies. Instead a Just Transition based on a regenerative economy is possible if production and consumption cycles are approached holistically and growth at all costs is replaced with policies that move towards degrowth; an idea that "critiques the global capitalist system which pursues growth at all costs, causing human exploitation and environmental destruction."
DiEM25s Blueprint for a Just Transition centres social justice in its policy working towards the goal that no "community gets left behind" and pushing for the European Union (EU) to take action to "redress extraction, exploitation, and inequality in Europe and around the world." This means placing race, gender, abilities, and class at the centre of the solutions equation, breaking down the silos that have hampered cooperation and action and instead build bridges, across lines of systemic and historic patriarchal oppression, across movements and policy spaces thus creating new relationships of power.
By including intersectional feminist analysis to policy making to achieve climate justice and overcome planetary destruction, it is possible to offer an alternative future to the one prospected by the fossil fuel industries with their extractive and polluting practices.
Photo Source: Akil Mazumder from Pexels. 
Möchtest du über die Aktionen von DiEM25 informiert werden? Registriere dich hier