A breath of relief was felt around the world on Monday after news broke that the US government's request to extradite Wikileaks founder Julian Assange from the UK was denied. But celebration was short lived: Assange's bail request was rejected on Wednesday morning.
"They are not trying to extradite him, they are trying to kill him," as Yanis Varoufakis commented.
DiEM25, along with the Progressive International, demands the immediate release of Julian Assange.
The extradition verdict
In the refusal to extradite Assange, Judge Vanessa Baraitser outlined that while the Wikileaks founder should not be sent to the United States because of a potential "suicide risk", his acts were "unlawful" and "not immune from criminal liability merely because he claims he was acting as a journalist."
The US government agreed, noting that despite a ruling not in their favour, the court rejected Assange's defense regarding "the right to a fair trial and freedom of speech" as well as the case's "political motivation."
If extradited to the US, Assange faces up to 175 years in jail. DiEM25 has previously written about the US government charges against Assange and why they constitute an attack on freedom of speech and whistleblowing.
Do we really want to live in a world where innocent people are put in jail for shining a light on the crimes of the powerful? The real crime is not going after the real criminals who committed murder in our name!
Assange denied bail
Today, Julian Assange was denied bail. Previous attempts at bail, including for COVID-19 and allegations of torture, have also been rejected.
Ruling in the Wednesday case, Judge Baraitser said Assange had reason to "abscond", despite the Wikileaks founder's defense team offering assurances that would not happen, including house arrest and GPS monitoring.
Scandalous decision by the judge to not grant Julian #Assange bail.

The fight for his freedom and the future of journalism continues.#FreeAssange #AssangeCase https://t.co/OtdV7zc2WO

— DiEM25 (@DiEM_25) January 6, 2021
Amnesty International responded by stating that "today's decision to refuse Julian Assange's bail application renders his ongoing detention 'arbitrary'" and that:
"The US government is behaving as if they have jurisdiction all over the world to pursue any person who publishes information about government wrongdoing. Today's decision seems intended to send a message that British justice will not stand in their way."
In his statement, Yanis Varoufakis outlined that through this case, they are indeed ensuring that journalists and other members of society 'think twice before exposing war crimes' by the US. Srecko Horvat also responded by tweeting:
"Outrageous: if Julian dies in prison, the #UK judge is complicit in murder."

"Let's call it by its name: What is being done to #Assange is torture. What is being done to press freedom is execution in broad daylight. What is being done to democracy in Europe? There is no democracy in Europe."
By Judge Vanessa Baraitser's own reasoning in the extradition decision, Assange should be freed on bail in order to prevent suicide. Indeed, "In order to avoid suicide watch or increased isolation at HMP Belmarsh, he has already adopted a strategy of disguising his suicidal thoughts."
What happens next?
The US government has two weeks to appeal Monday's extradition decision — and is planning to do so.
An appeal would involve a cross-examination of Assange and the US government. Assange's legal team will be able re-try arguments they lost, such as the right to a fair trial, while the US government will have the opportunity to alleviate concerns over the Wikileaks founder's health if extradited, such as increased suicide prevention monitoring.
Given President Donald Trump's term ends in less than two weeks, the appeal case likely sets up a legal showdown between the Wikileaks founder and incoming US president Joe Biden.
Assange and Biden
President-elect Joe Biden and his transition team have yet to comment on the ruling. Though the incoming 46th President has discussed Assange previously. In 2010, then-Vice President Biden labeled Assange a "hi-tech terrorist", the "strongest criticism" at that time of the Wikileaks founder from the Obama administration.
Biden's assertion relied on the belief that the Wikileaks disclosures, including video of the killing of two Reuters journalists by US troops, endangered the lives of sources. Many have challenged this argument, including the US Department of Defense.
A new era for press freedom — or prosecution
Don't be fooled: if there was no pressure to reject Julian's extradition to the United States — such as the Belmarsh Tribunal —  it would have happened. We would have likely never seen him again. Continued pressure on the case has halted the first ruling in this case — and protest actions must continue until prosecution is stopped and Julian is free.
DiEM25's political party in Greece MeRA25 filed a motion to request that the British government ends the prosecution of our movement's Advisory Panel member and WikiLeaks editor Julian Assange. DiEM25 has also enabled its membership to send letters to EU parliamentarians on key dates, and lead a petition 'Don't extradite Assange' which has amassed over 130,000 signatures. Our co-founded Progressive International has additionally hosted The Belmarsh Tribunal, which put the US on trial for crimes revealed by Assange.
This has been accompanied by grassroots actions involving countless events and protests across Europe. In Belgium, DiEMers in collaboration with the Free Assange Committee have held solidarity actions every single Monday since April 2019. Most recently, DiEMers have participated in an online EU-wide protest against his extradition to the US.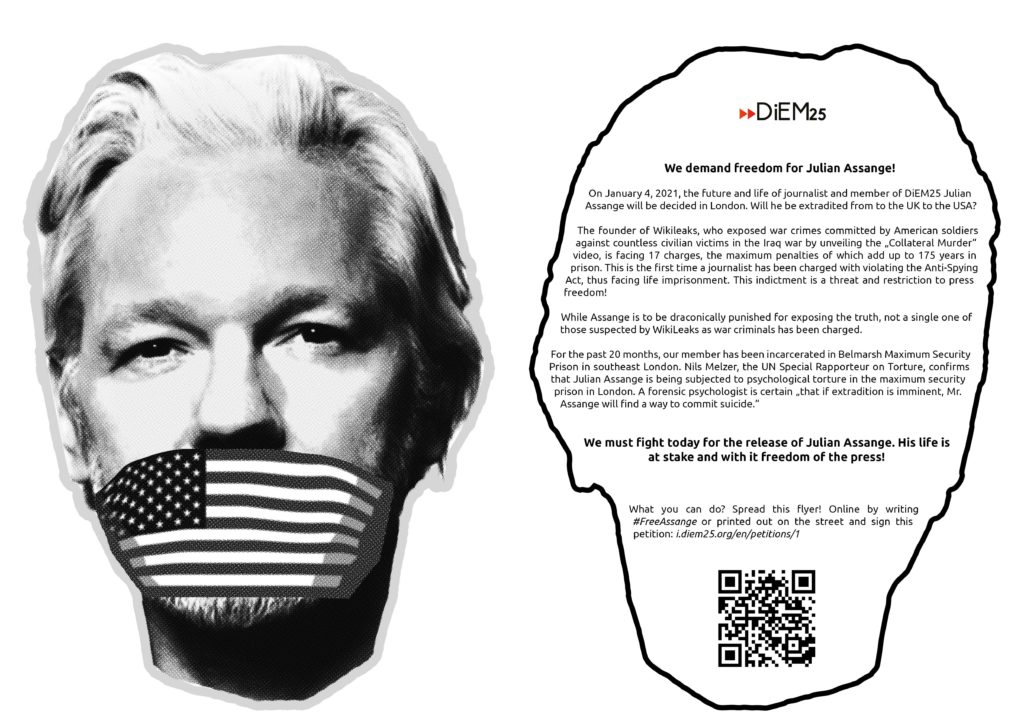 It's worth remembering the damage that this case has caused against whistleblowing. Assange stands as the example of the lengths governments and private corporations will go to protect their secrets and prosecute those working to expose war crimes and corruption. "The U.S. indictment of Assange will continue to cast a dark shadow over investigative journalism", states Jameel Jaffer of Columbia University's Knight First Amendment Institute.
To further support this cause, journalists fearful of the Trump administration's attacks on the free press should feel compelled to secure a pardon for Assange from the incoming media friendly Biden administration. The President-elect should feel equally responsible and immediately suspend this obvious attack on press freedom and whistleblowing.
You can sign a petition to release Julian Assange here!
Learn more about the meaning of these decisions with Yanis Varoufakis today at 17:00 CET.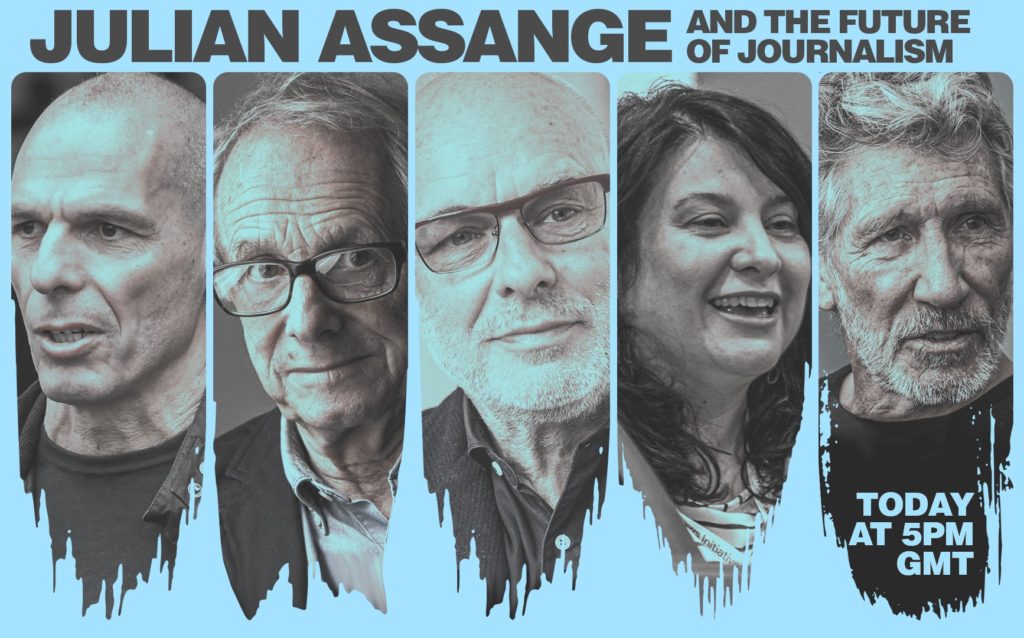 Until then, #FreeAssange!
Möchtest du über die Aktionen von DiEM25 informiert werden? Registriere dich hier